Early October:
I got this at the start of October, intending to use it to take over from my ZJ Grand Cherokee as my primary off-roader. First job was to get a new taillight unit for the left hand side as the old one had faded badly.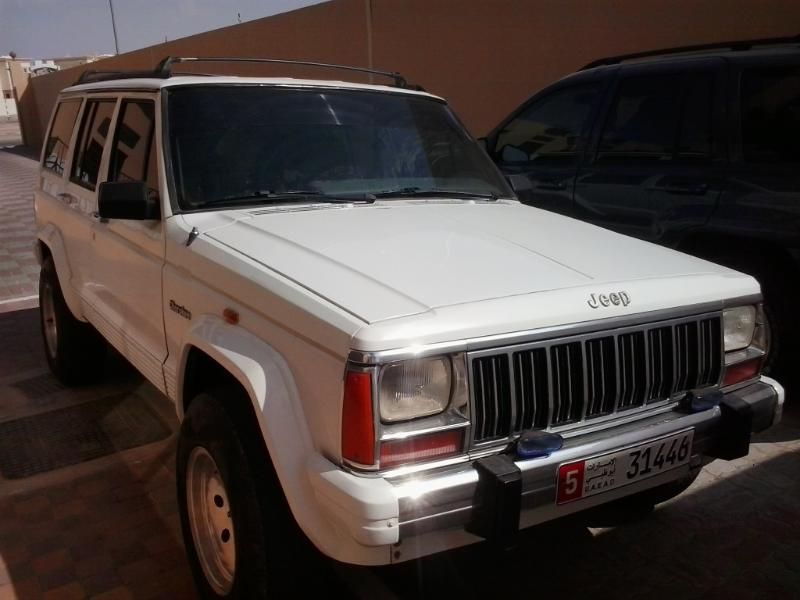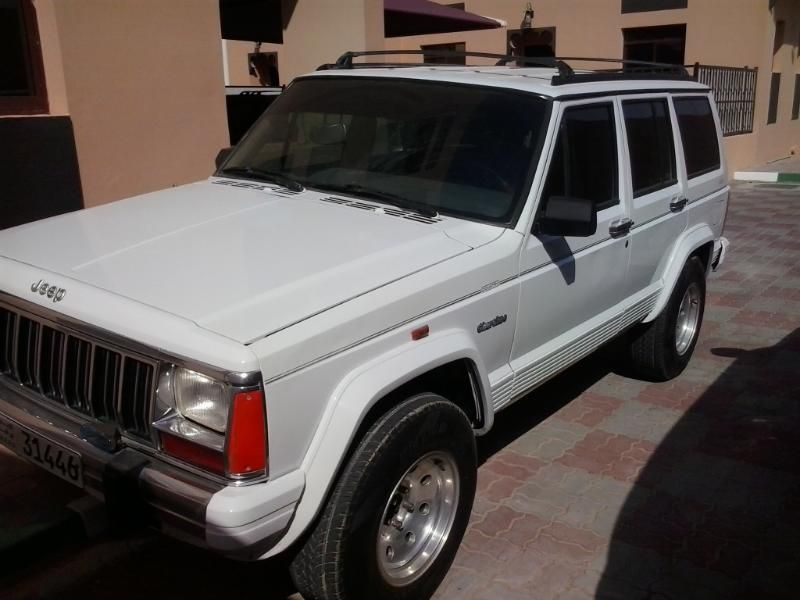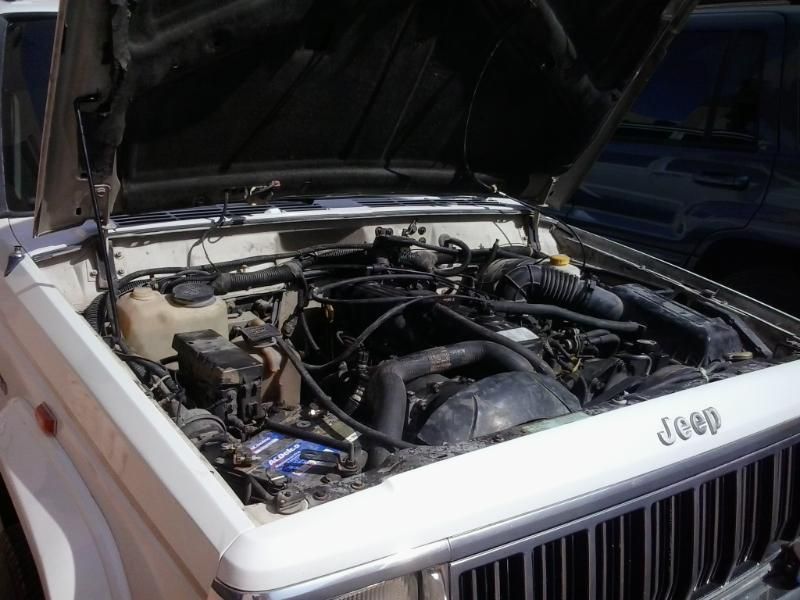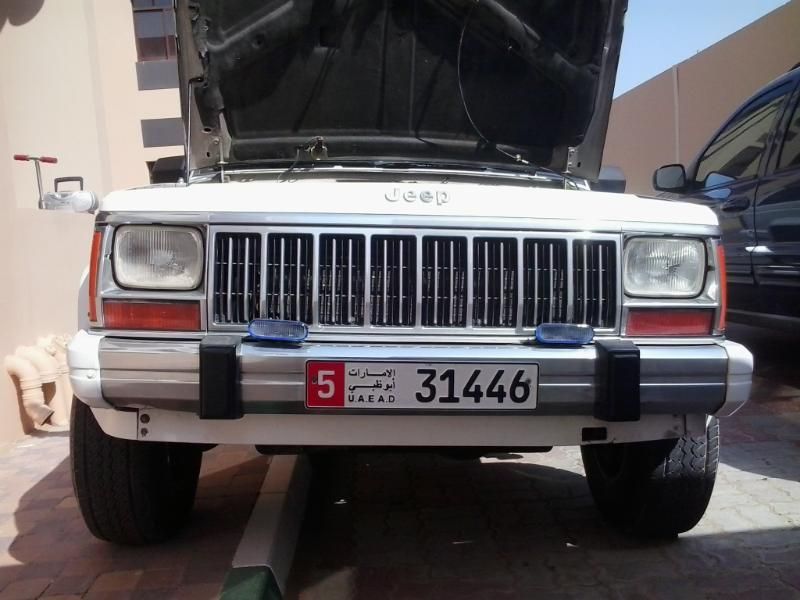 October 23rd:
I took this out on a local run in the dunes today and have to say that the results are very impressive - even better than I'd hoped. It certainly gets more power down to the wheels than my ZJ and has me wondering if the ZJ's engine is giving all that it should (in addition to it being an auto). It was able to climb dunes that the ZJ wouldn't even get close to getting on top of and I had to change gear a lot less often than I expected. You can really feel how much lighter it is than the WJ and ZJ and reminds me of a quote from Colin Chapman which went something like: "to increase performance, first add lightness". It's certainly true.
It does need more ground clearance at both ends and so a 2-3" lift is essential. It also has a very squeaky heater blower so that will need to be looked at (it looks like a major job to get at, though).
November 4th:
I forgot to take a proper photo of it to show the "after" but I think that you can see a bit from the shot from saturday's trip.
The fact that the front coils are taller and more stiff means that it doesn't hit the bump stops like it used to. On-road handling and ride are better, too, which is an unexpected bonus - a product of it having the taller front coils and rear helper springs, rather than just spacers.
Anyway, now it's even better!
I have also replaced a few other bits, including the rear tailgate gas struts. Now instead of the tailgate falling down on your head, you are in danger of being hit under the chin as it springs up!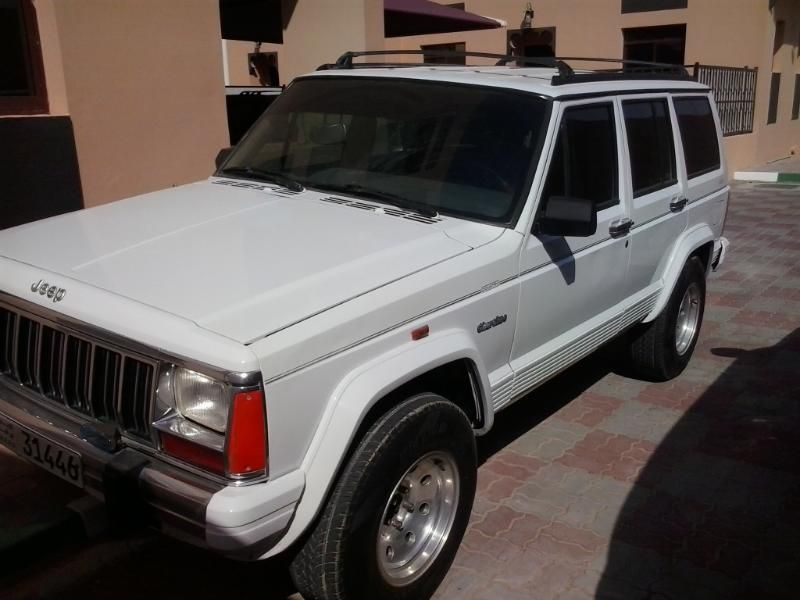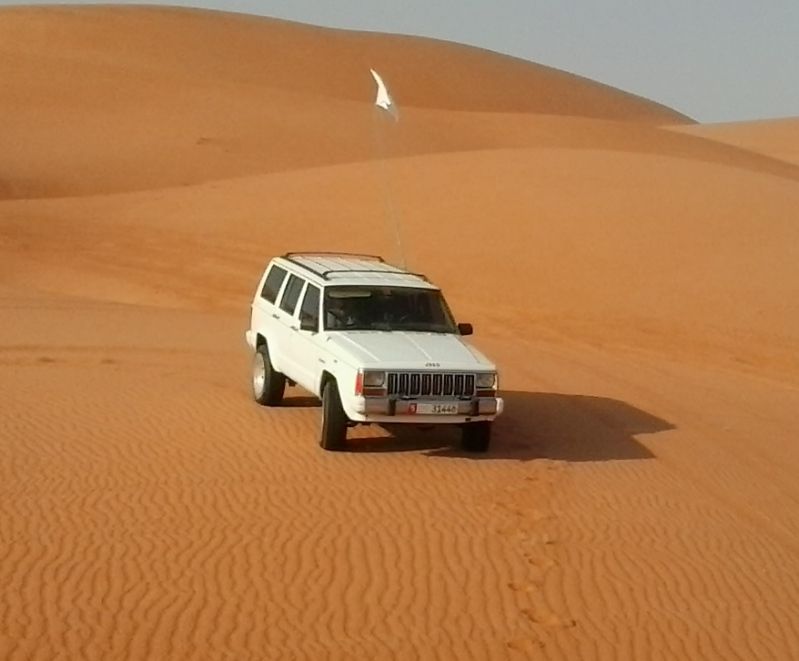 November 9th:
Steering balljoints (tie rod ends) all replaced now - I have no idea how old they were - but the Jeep has 335,000 km on the clock! Most of them are fitted with grease nipples which means that they could/should have a good chance of lasting for a long while.
We had a trip out today and the Jeep performed well until almost the end of the trip when two connected failures left it immobile. The bearings in the electric cooling fan collapsed, throwing the motor badly out of balance and in danger of failing completely, and wrecking the radiator - so I had to disconnect it. Then, whilst parked and idling, the lack of airflow from the mechanical fan caused it to overheat and the radiator blew up in spectacular fashion. The plastic end tank split, blowing all the water out.
I guess that these components were getting old and tired and offroading tends to highlight any weaknesses. The red ZJ had a lot failures in the first few months that I had it but settled down as I got on top of them and I expect that this one will go the same way.
As a result, I had to be towed to a suitable spot to abandon it and I will be heading back tomorrow with a new rad and hopefully a new fan motor. Still, it was fun while it lasted! Thanks to Wallie, Blaze and John for the recovery.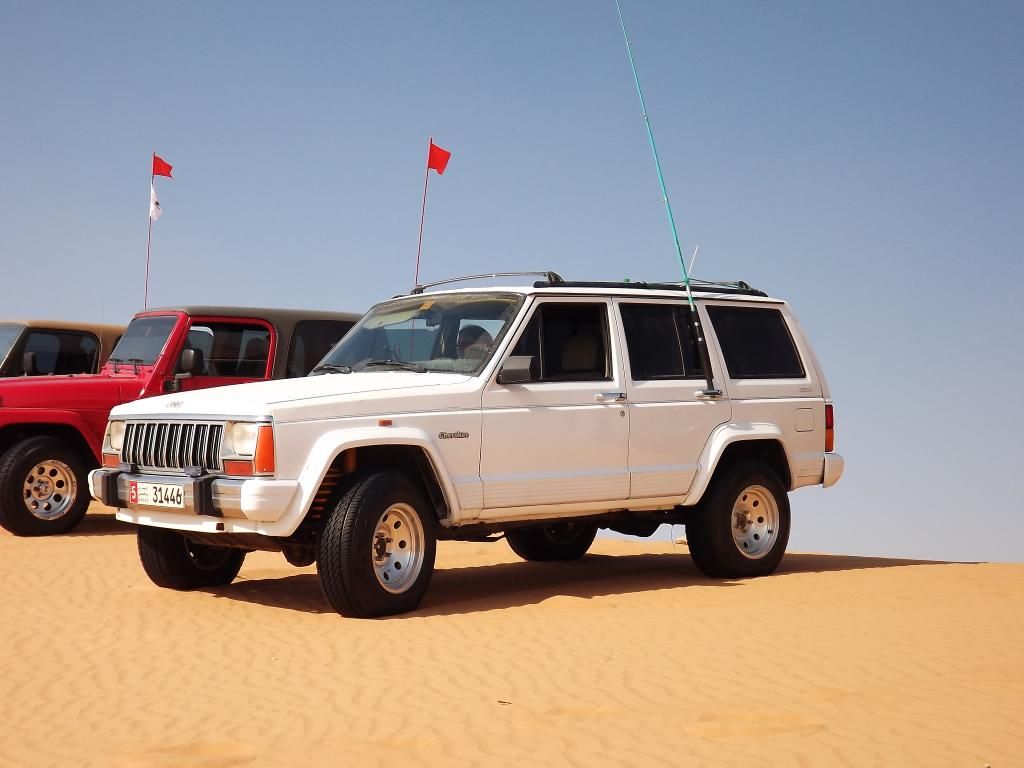 November 10th:
One of the nice things about having a popular vehicle is that parts are generally readily available and sensibly priced. For example, on saturday morning I was able to buy a brand new Valeo radiator, new electric fan, new hoses, rad cap and thermostat and had change from AED1000. The local parts store had it all in stock (I doubt that all makes would be so well catered for) and repairs took exactly 1 hour to complete- and that was taking it easy.
Whoops
Think I found the problem
Old and new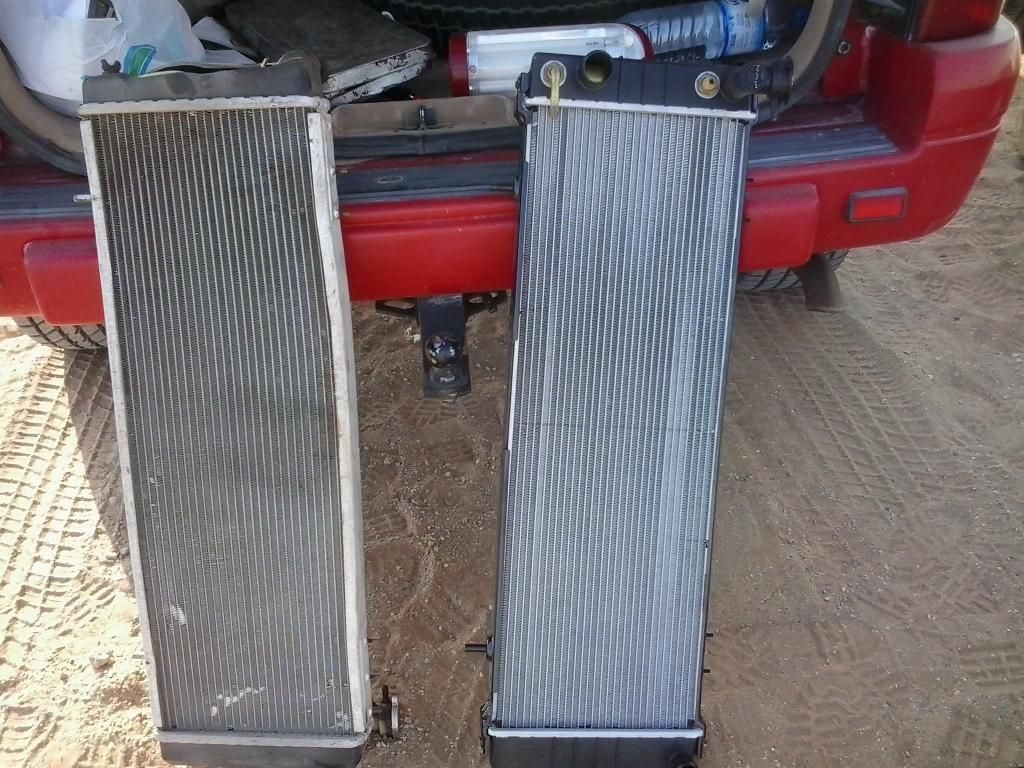 New fan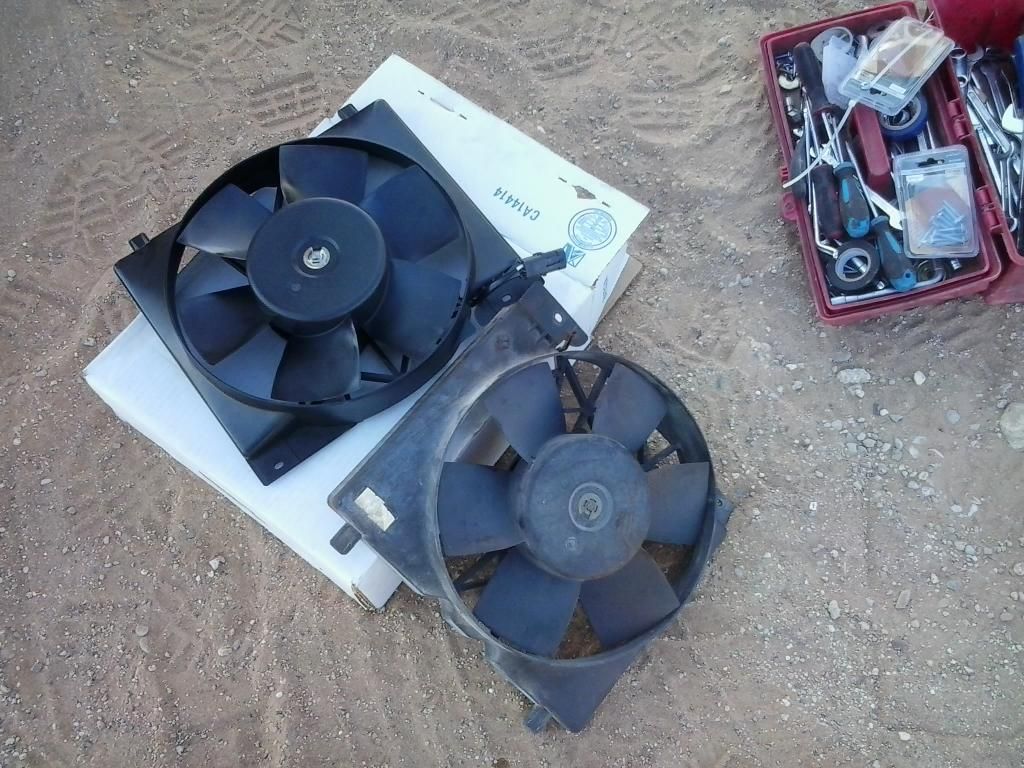 Almost done
December 30the 2012
New Dunlop At22 tyres fitted and they are good offroad and on it, too.
Other progress:
The very noisy heater blower has been replaced with a new on from
http://www.rockauto.com
in the USA = $35 + shipping costs (as part of a larger package, so not too steep). no-one local seemed able to find a new one.
All the trackrod ends (tie rods for the Americans) have been replaced and the steering certainly feels less vague than it was. I think that the axle knuckle balljoints will need to be done as a precautionary measure before long. I'm going to fit a new track bar as well, just in case.........and the steering box needs adjusting, so that might get done at the same time.
A new steering damper was fitted today, to reduce kickback through the steering (successful). New anti-roll bar bushes will be going on soon, too.
Today I also fitted new oil rings to the oil filter mounting adaptor to cure one of those "they all do that sir" oil leaks. So it got an oil and filter change at the same time and the leak seems to have stopped. The old rubber oil seals had gone so brittle that they snapped like Bakelite when removed.
I also had to fix the wipers because they were always very slow but stopped working altogether last week. I suspected a seized motor but checked out the wiring too, finding that the circuit breaker in the fuse box had failed (it's a self resetting circuit breaker rather than a conventional fuse) but after fixing this I found that the motor was seized. the Jeep workshop manual says "no serviceable parts inside the motor" but I took it apart anyway and found that it had just seized up and with a de-rust, followed by a good WD40-ing, all is well again.
Coming soon: two additional cooling fans - I have bought 2 8" fans to go in front of the radiator and I plan to fit these on tuesday (day off work) along with some bonnet vents like on my red ZJ.
May 9th 2013
This is what the original flares look like: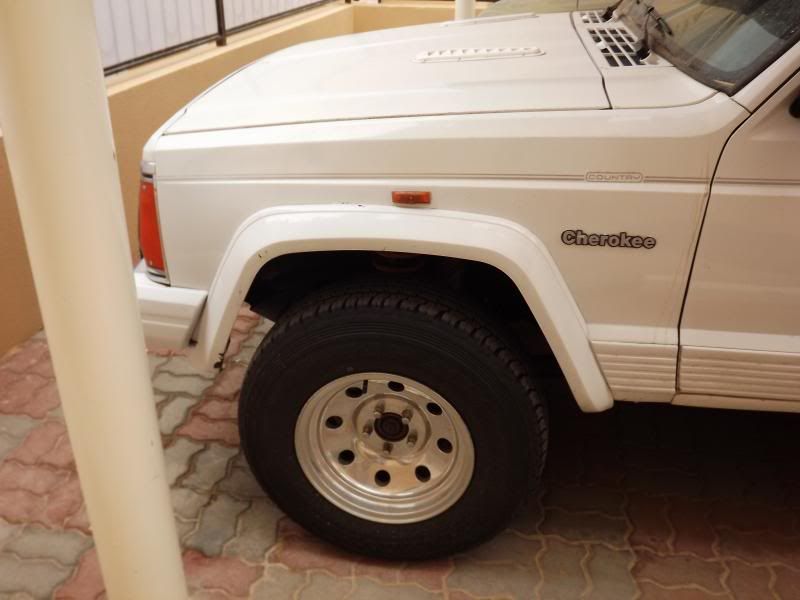 This is the kit of wider flares. Single-piece front flares, two-piece rears (part for the door part for the wing) and two funny looking bits that have yet to be identified! :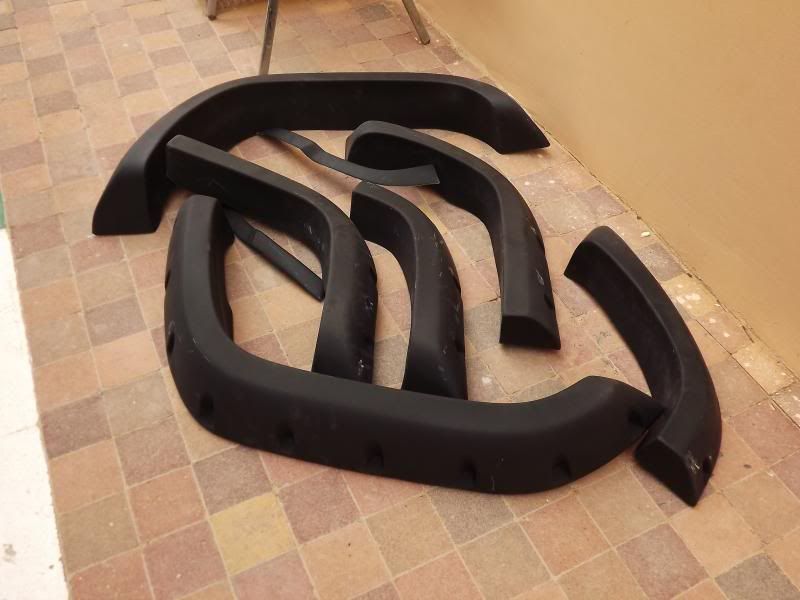 I used fibreglass matting and resin to beef up the areas where the bolts go through (sorry no "after" pic just yet):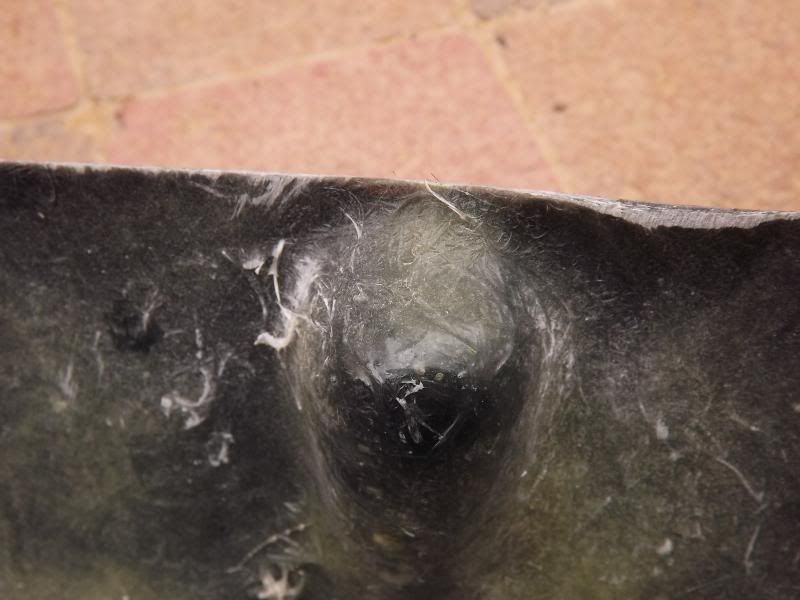 There were no instructions or bolts but it's not rocket science. Whip off the original flares, offer up the new ones and get an idea where the slightly mis-shapen fibreglas needs to be trimmed. Then get brave with the angle grinder and attack the wing!
This is what came off:
After drilling a load of holes in the flares and the wing (all rust treated and painted), I used some small bore irrigation tube (split down the middle) to edge the lip that presses up against the wing. Then I bolted it into place with some nice M8 hex headed bolts. The area under the front end of the flare has been left untrimmed for now - once I've get everything in place I'll trim/fold/paint it to tidy it up.
Then it's time to tackle the other side. Here you can see the mounting holes. No going back now! You can also see here the lift springs and uprated shocks that I had fitted some time back (about 1.75" of lift). Needless to say, this side took a lot less time than the first!
You'll probably have noticed that the new flares cover the area of the side repeaters. i have fitted some LED indicator repeaters to the mirrors (you can see them in the last three shots) and will see if there is somewhere convenient to refit the side repeaters - probably above the crease line.
Now the rears are going to be a bit more tricky because there are some double skinned, areas that I really don't want to trim because it would weaken the shell (where the inner arches meet the rear wings) so I will have to fold, weld and paint those bits and spend more time trimming the flares.
I'm reasonably pleased with them although the rear end of the front left flare is a rather poor fit at the bottom of the wing and could do with building up - but that's a job for another time. Rears first!
Also, the wheels look a little lost now (as expected) so I may swap them for the ones on my red Grand Cherokee which have a wider offset or fit spacers. Hopefully I'll get one or both rear arches done this weekend.
May 21st
Driver's side arch on: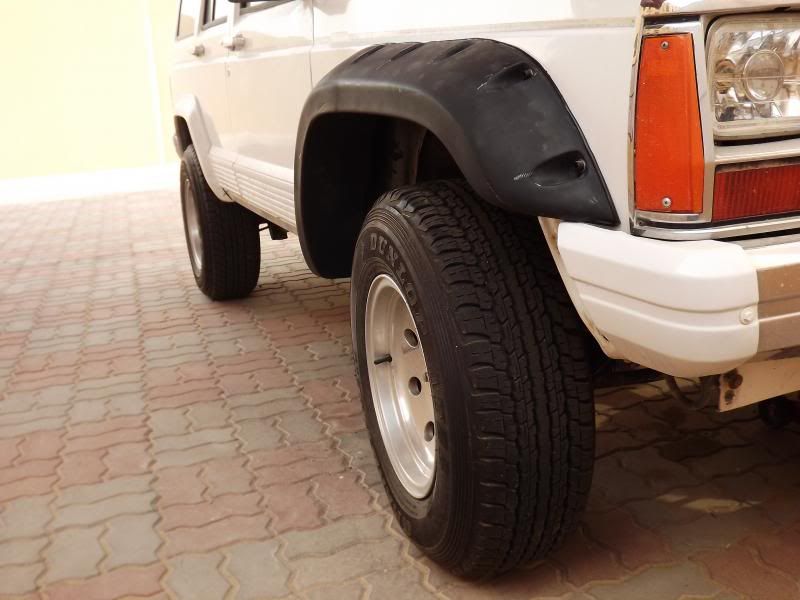 The plastic "beading":
Never mind the quality, feel the width
:
A gap that even a Range Rover would be ashamed of!
Rear arch:
All 4 arches on: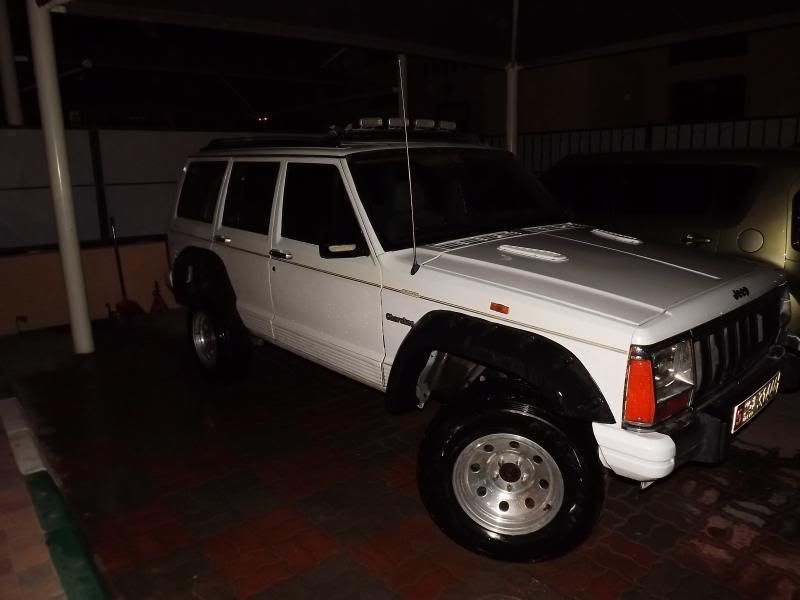 Relocated side repeater and Cherokee badge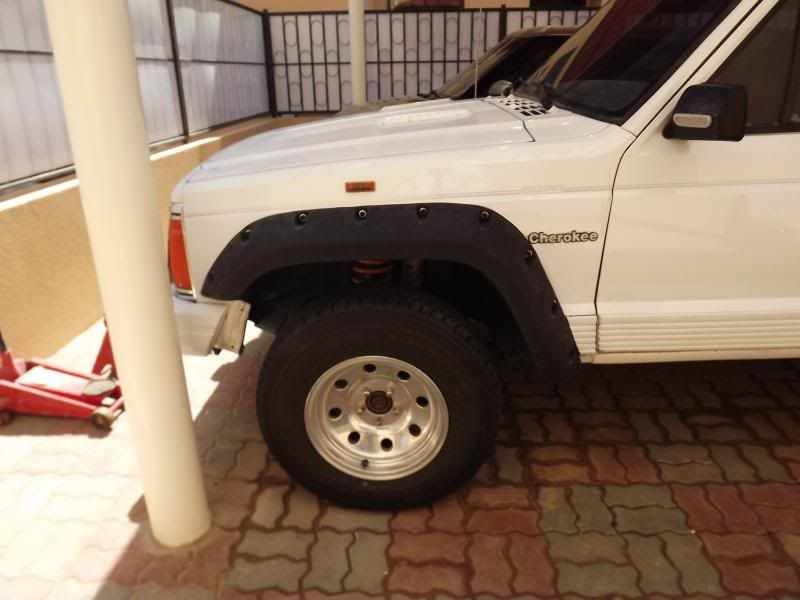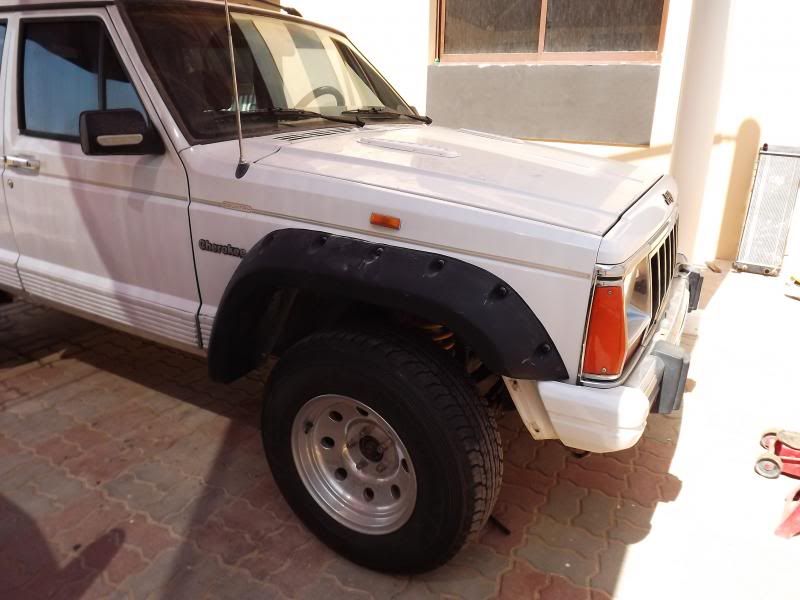 I'm reasonably pleased with the results but it's not a job I fancy repeating any time soon. I'll be charitable and say that "the fit could have been better" - in fact, I think that the arch flares were made by someone who had once seen a Cherokee from a distance but never actually got close enough to measure up
. A LOT of fettling was required - perhaps made worse by the fact that I did not want to trim the rear wings/inner wheelarches because of the risk of weakening the structure, so I just folded the lip of the wheelarch up into the inner arch (forgot to take photos, though).
Now for some spacers for the wheels so that they can fill those arches.
Thankfully the new radiator was a whole different kettle of fish. Beautifully made and it slotted straight in with no troubles. I flushed the cooling system, changed a few hoses and fitted a new expansion tank and everything was fine - for one whole day until the water pump munched its seals! So it all had to come out again for a new water pump to go in. on the plus side, I also took the opportunity to fit a heavy duty viscous clutch to the fan so it should help cooling, too. So far so good.............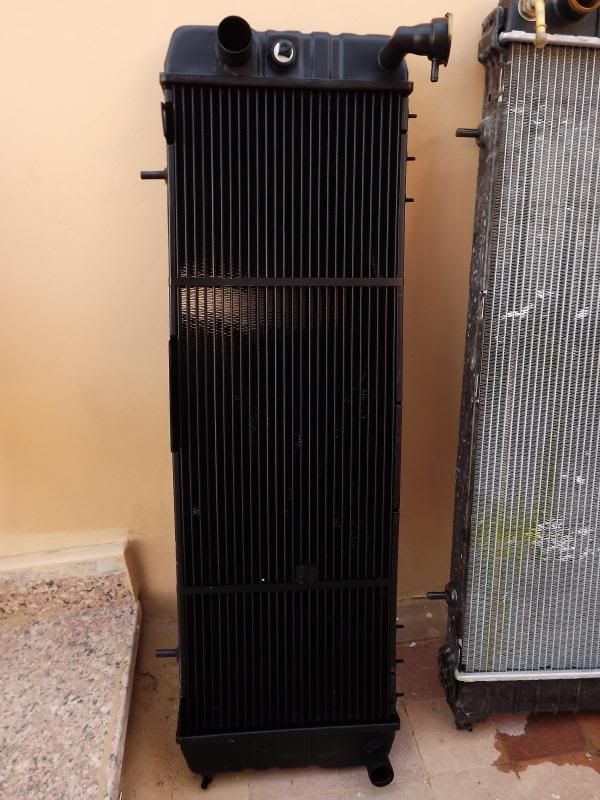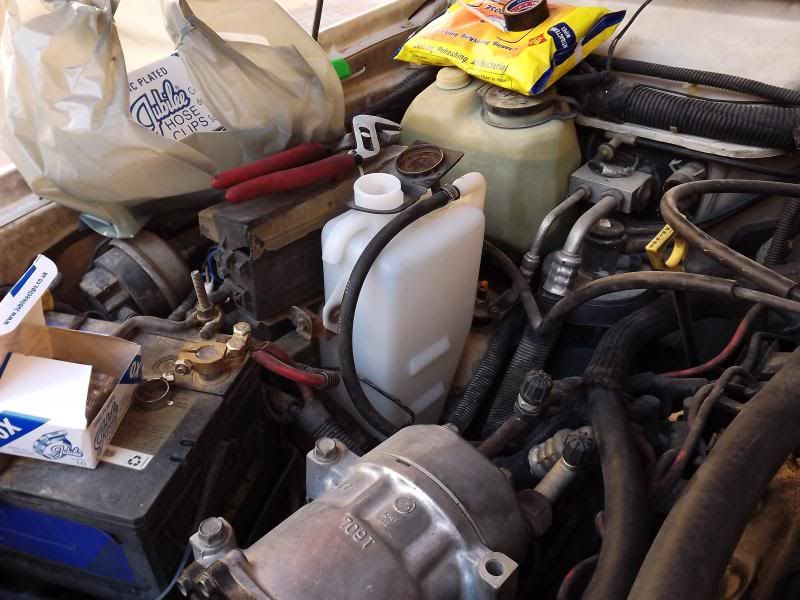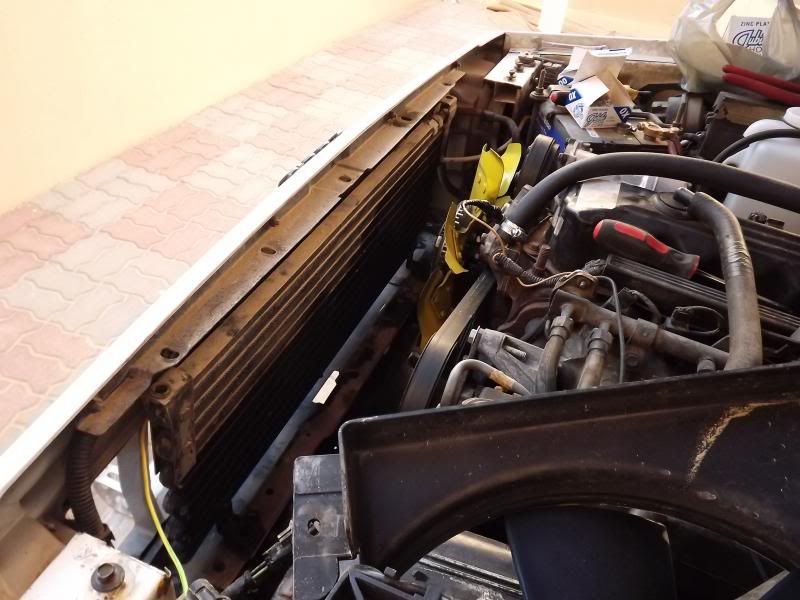 August 31st
Another job done on the Jeep - wheel spacers. After fitting the flared arches with the aim of giving more clearance for suspension travel, the bodywork is a bit wider and the wheels looked a touch lost. So, Ebay.com came to the rescue with a set of 1.25" aluminium wheel spacers at an attractive price (certainly better value than wider wheels and new tyres!)
Before and after pictures (taken in the dark because that's when the temperature drops to sensible levels - i.e. below 40C):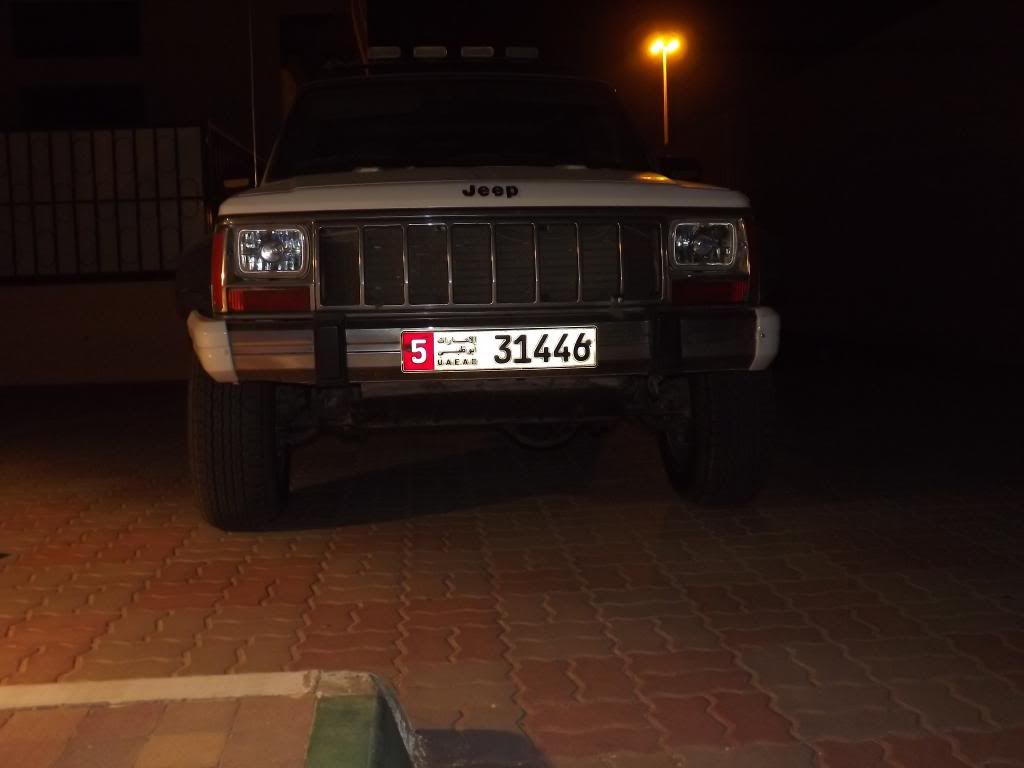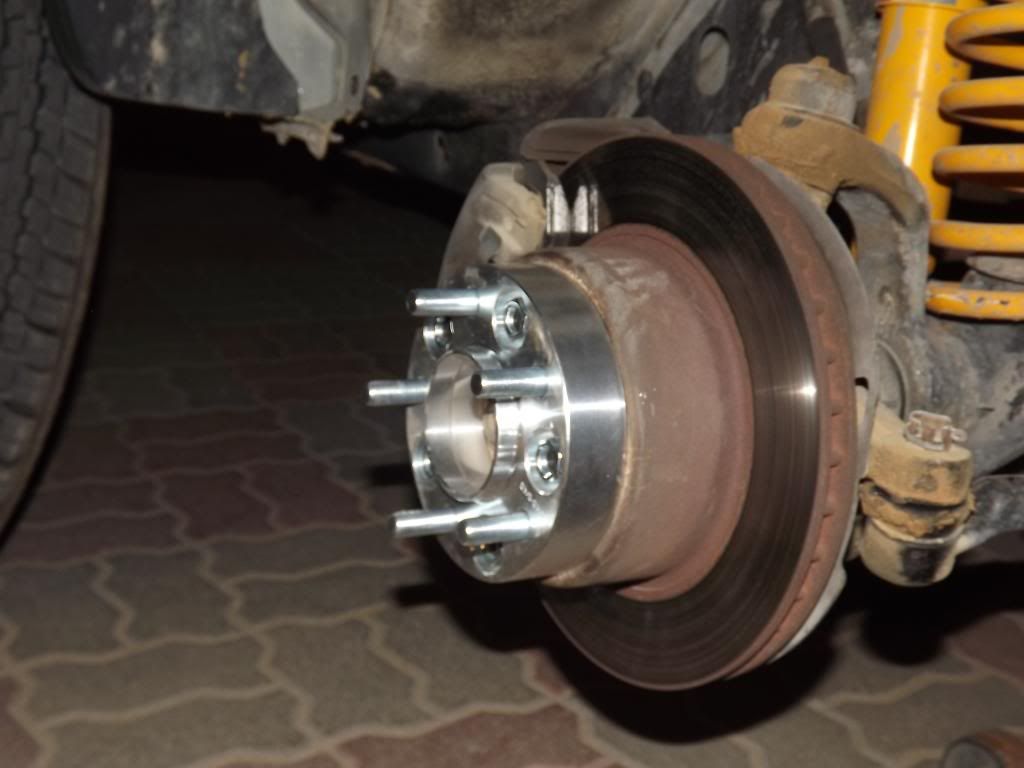 In daylight:
I also fitted the cupholder after adjusting the handbrake so that the lever doesn't foul on it:
Now for a few more mods to the cooling system......coming soon.
Sept 1st
The radiator fan shroud disintegrated a few weeks ago on an offroad trip. The problem is that with no shroud there is a lower volume of air drawn through the radiator. My local parts shop had one on stock, so that's now back to standard spec.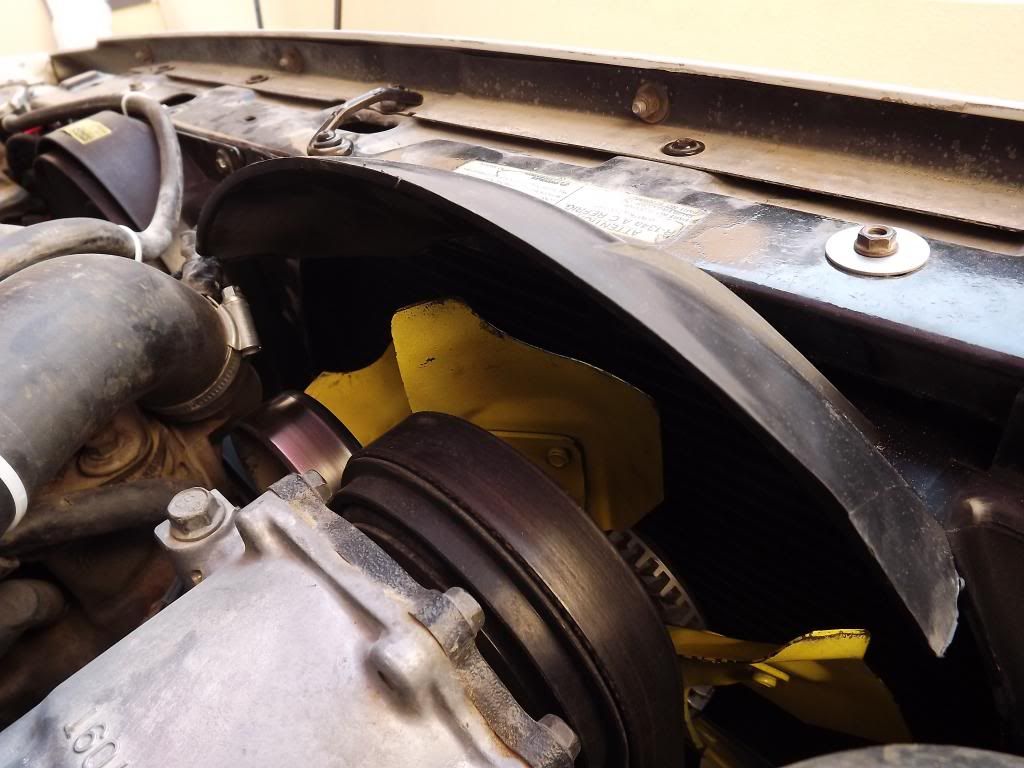 The electric cooling fan is used to supplement the mechanical fan when the engine warms up and when the aircon is on. The original type of fan used up to 1997 had six, straight blades and was very noisy - mine especially so as the bearings in the motor were wearing out.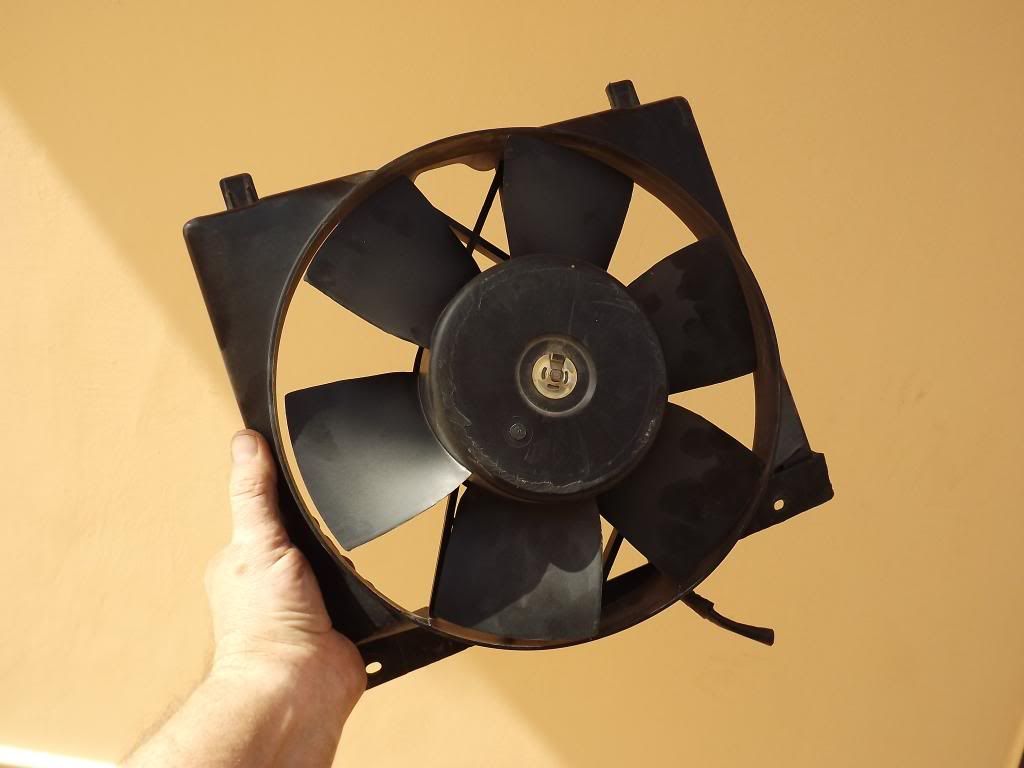 The 1998-onwards fan has 10 curved blades and is supposed to move more air whilst being cooler. My local parts shop had them in stock at an attractive price (AED220) so the old fan has been replaced by this:
It's certainly quieter and smoother (less vibration) and does seem to move lots of air - I've no idea if it's more effective but it's worth a try. I was going to fit one to replace the mechanical fan because that is supposed to be the best setup but unfortunately my uprated radiator is thicker than the original and there is not enough space between the rad and the belt pulley on the engine. Bum (although I may be able to create more space using the drive pulleys from a Grand Cherokee).
Lastly for now, the chrome plated moldings around the headlights were cracked and broken so I bought some cheap, black ones and sprayed the grille black to match. I've never liked the chrome look so I'm much happier with this, especially now that it matches the flared arches.